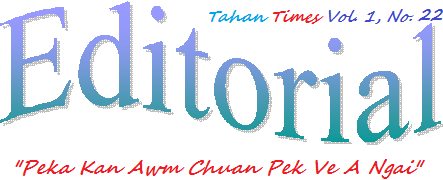 Kan ram chu democracy ram puitling din tumin hma lam kan pan zel a.Mipuite hian, 'Kan democracy hun chuan…' te kan ti fo. Eng nge kan beisei? Eng thil nge lo thleng tura kan duh?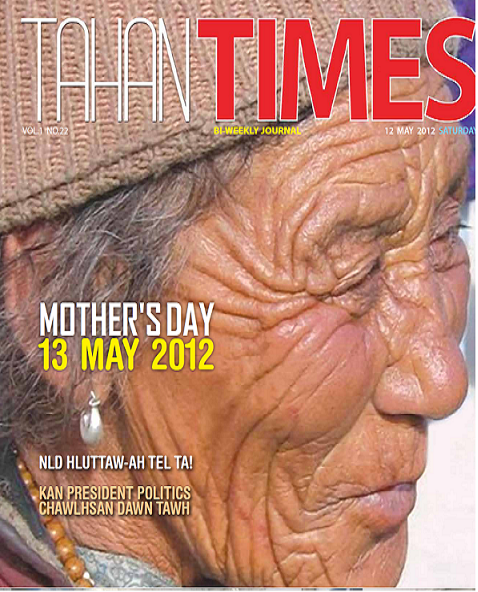 Eng thilte hi nge inthlak thleng se kan tih? A subject hawi zawng azirin sawi tur kan ngah theuh ngei ang.Democracy nihphung zinga kan beisei tak ni awma lang thil pakhat chu 'zalenna' a ni awm e.
Zalen taka thu sawi theih, zalen taka thu ziah theih. Venthawn nei lem lova zalen tak, pangngai tak, hlauh nei lova khawsak hi kan thil duh pakhat chu a ni ngei mai.'Zalen' kan tih hian mi dang chanvo te, mi dang dikna te nek zawng leh khawihpawi tur zawnga zalen lutuk, thununna tel lo hi kan kawhtir lo tih kan hre theuh turah ngai ila.Ram a tha telh telh anga mimal zalenna, dikna te humhalh nachang kan hre tial tial dawn. Kum tam tak, mahni rilru ang pawh sawi ngam lo, sawi thei lo dinhmunah kan lo ding ngai tawh.
Tunah hian kalphung thara inlumletin sawrkar hian hma a la mek. A system ber a lo that chhoh takah chuan a mihringte chu kan inzir tha chho ve mai dawn.Helai takah hian mimal, chhungkua, (kohhranah te pawh!) khaw-tlang leh sawrkarah te pawh mimal dikna leh chanvo te humhalh duhna avangin, aia upa emw, aia thuneitu zawk emaw pawh nise, tunhma ang lo takin huai takin hmaichhanah kan inchhal fak fak thin tawh dawn tih hi hriat a pawimawh ang.Sawiseltu, khaktu awm loh vanga inluling mai thinte khan rin loh takin khak leh chhuahchhal te sawisel te an tawk an tawk ve tawh ang. 'Hnial leh khak huna ngawi reng thin mi dawihzep te avangin, 'pawi khawih an lo awm thin,' tih a nih kha. Chutianga ngawih mai mai hun chu a liam mek a ni.
Rilrem loh zawng taka miin thil an tih pawha sawisel that ngam loh boruak kha a bo tial tial dawn. A ngawi ral mai mai reng dawn tawh lo. Chutiang huaisenna chu democracy system chuan min pe dawn a ni.Mimal zalen te, press (media) lam zalenna te hi ram sawrkar hial pawh khalh ngilna atan thil pawimawh, thil tul a ni kan ti a, chutiang chu peka kan awm rualin a lehlamah pek ve tur kan nei. 'Khak, sawisel, an-khum te pawh hlawh thin tur leh dawl zo tura kan rilru inpuahchah a ngai ve bawk. Sawisel leh khak te kan huat hlur ringawt chuan 'democracy tuang kan la nei chhah lo tihna' a ni ang.Chuvangin, 'Pe rawh u, pekin in awm ang,' tih thu kan hre tawh a, 'Peka kan awm chuan pek ve a ngai' tih pawh hi kan hriat a pawimawh hle a ni.
—Read More @@ Tahan Times Journal vol.1 No.22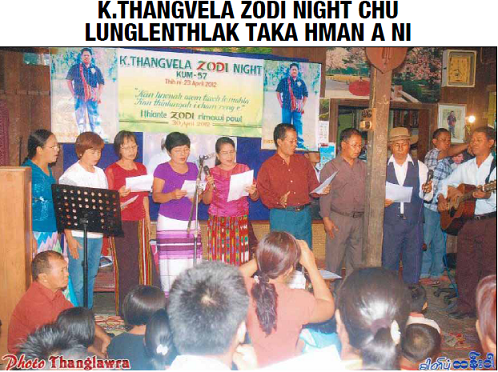 Kan hriat theuh tawh angin Pu K.Thangvela (kum 57) chu 22 April, 2012 khan kan chan ta kha a nia. Kha thil thleng khan Mizo Music khawvel mai bakah Zoram khawvel a barakhaih tak zet a nih kha. Amah Pu Thangvela hi Tahan tana mi tang-kai leh inpe zo a ni a, pa hlim thei leh rual pawl thiam tak a ni.
Chuti chuan 30 April 2012 khan K.Thangela Zodi Night chu ama inah urhsun taka hman a ni. Hmanpui turin mite sawm hran lo mah se, mi 300 chuang teh meuhvin an hmanpui a ni.
Zodi music band-a a awm chhun chhun bak zai thiam hlun tak takin zai hmangin hun an hmang deuh ber. Zodi leh Zodi-a mi ni lem lo zai thiam hlun telte chu Pi Hlunmawii, Sayama Kyi Kyi, Pi Malsawmi, Pu Thangluaia, Pu Biakthangliana, Pu Pachhunga leh mi dang eng emaw zat an tel a, musician lamah pawh Pu Lalhmingthanga, Pu B.Tea, Pu Bawla (Keyboard, ani hi Zodi musician an kim loh avanga pui a ni) leh mi dangte an ni. Program hi zan 8:00-11:00 thleng hman a ni a. A lunglen thlak a, nun hlui ngaih a tizualin Zodi vanglai min ngaihtir hle tiin Pu Thangvela nupui Pi Mamin a sawi nghe nghe!!!