» General News » Mizoram Synod leh Presbyterian Church(USA) Inthen Ta
Mizoram Synod leh Presbyterian Church (USA) inthen ta
June 11th, 2012 9:00 pm by NotGood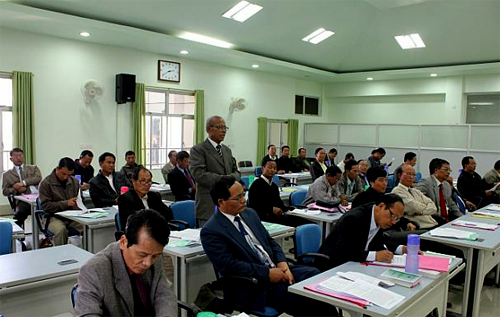 Members taking part in discussions at the 238th Synod Executive Committee meet.
Kum 1999 atang khan Mizoram Synod leh Presbyterian Church (USA) te hian inlaichinna an lo nei tawh a, mahse tunhnaia 239th Synod Executive Committee (SEC) thukhawm chuan PC (USA) ten Homosexuality kaihhnawih lama an ngaihdan an pawm loh avangin hetia rorel ta hi an ni.
Members of the SEC said the ordaining of gay ministers and consent to same-sex marriages were the principal reasons behind the fall out as it is was "against the Biblical truth".
"…We are in complete disagreement over such decisions that have serious practical ramifications. We hence have decided to end our partnership with them," said Rev Malsawmtluanga, a member of the Mizoram Synod Executive Commitee.
Hetah hian a chhiarzawm theih e. Enge mi(sual) hoten kan ngaihdan le?
Soure : www.misual.com
Filed under: General News