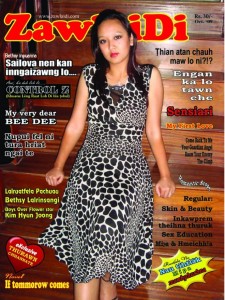 ZAWLAIDI: Zoram khawpui lian zinga hmuh chakawm em em pakhat, Lunglei lam chu pan in;
"A saw raltiang Leitlangpui tualnuamah sawn e,
Tleitir dawnthartuaite a leng an ti…"
tih hla ngaithla chung zelin kan kal a. Chhiat tawh avanga kal ni mahila Fam Lalzova te, Roliana Ralte leh F. Rokima te duh ang thala tual an lo chaina vangkhua a nih bawk vang leh anmahni biak theih chang tawh lo mahse,lei daia riahrun an remna hmun ngei tlawh ve hrim hrim chakna chuan thlen min nghahhlelh tir a. Lungngaihna ruam atang pawhin phurna tlem azawng chu min la neihtir miau bawk a. Kan tana Leitlangpui mawitu hmel kan hmu thei dawn vei bawk nen.
Tichuan an sawi Leitlangpui ngei chu kan thleng ta a. Kan tum ang zawng zawng a tlawlh deuhthaw ta mai a. Kan tum tak zaithiam Betsy-i te In ah kal kan chak ang ngeiin kan leng thei hlauh mai. Amah Leitlangpui mawitu-i damkawr ngeiin min lenpui bawk a, a hlimawm in, a hlawkthlak hle. Leee! Betsy-i inpuanna chu leee!
—Bethsy Lalrinsangi
Zaithiam naupang tak, pumraw lian tak, nungchang pawh puitling riau si, hmeltha leh tunlai tawng taka khal tha tak, inngaitlawm leh nungchang pawh tha tak Betsy Lalrinsangi hi zofate zingah hian hre lo kan awm awm love. A aw lian leh puam tulh maite hian mi a hneh a, a pian a tha a, a la lam thiam viau bawk si hian mi lawm leh duh a hlawh viau mai a, a music video apiang a lar a ni hawt mai. Chu kan hriat Betsy-i chuan in thil hriat chak tak tak tiang hian a chhang e.
—Pian leh murna
Ni 16 August, 1990-ah Kristian Hospital Serkawn-ah ka piang a. Ka pa chu C. Saihmingliana a ni a, ka nu chu H C. Pari a ni. Unau Pathum kan ni a, a mi lai ka ni. Tunah hian fit 5.5 a sang ka ni.
—Zai hi nuam ka ti
Zai hi ka naupantet atangin nuam ka ti a. Ka pi leh pute hi zai ngaina em em an ni a. Ka pu phei chu zaithiam tak, Redemption Singer a an puipa leh AIR Shillong-ah pawh Artiste lo ni ngat tawh a ni a. Piantirh tetlai atanga music chenchilh ka ni. Chhungte'n min lo phurpui bawk nen zai hi nuam ka ti khawp mai. Tun aia nasa leh zau zawk hian zaia rawngbawlna hi neih zel ka la duh a, ka aw hmanga zau zawka rawngbawl hi ka tum lian tak pawh a ni. Tin, zai bakah hian lam hi ka tuiin nuam ka ti hle bawk.
—Zaia rawngbawlna lama chawimawina(Award) a dawn te
Moon Light Special Award, Rimawi khawvel New artiste, Lelte Award-ah Best Music Video, Gospel New artiste of the Year leh Gospel singer of the year(F) te ka dawng tawh a. Vulmawi Lunglei Chanchinbu lar tak in Best Music Video ah te min thlan in, chawimawina te min hlan ve tawh a. Ka tuina takah hetiang chawimawina ka dawng thei hi ka lawm tak zet a ni.(Heng Award a dawn te hi a kum nen kan hre thei ta lova, kan tarlang thei ta lo -ZD)
—Pathian hla sak chhan
Love song hi sual ka ti miah lo mahse, Pathian ringtu tak takte tan chuan fakna hla ai chuan a thlan zawk theih lohah ka ngai. Pathian hla hi kristian chhungkaw tha tak, in enkawlna tha tak hnuaia seilian ka nih avang a sa ka ni a. Ka pianthar vanga sa ngam pawh ka ni. Ka naupantet atanga sa tawh ka nia, ka la sa zel ang. Ka hla sak zingah chuan ka nu in Halkha hla a lehin, 'Engkim i ropui nan' tih hla hi ka duh zual bik a, ka testemony hla a ni a, he hla hmang hian ka inhlan thar fo thin. Tin, Thufingte 3:5-6 hi Bible-ah chuan ka duhzual lai chang a ni a, hei hi kan unau thuvawn a ni nghe nghe.
—Gospel singerte mawhphurhna
Zaithiam rau rua-ah pawh Pathian hla sa tute hi rawngbawltute kan nih miau avangin kan nun hi uluk em em a tul a. Mi min tehna pawh hi asang bik. Chuvang chuan ringlote kawng dik kawhhmuha, an nun kaihruai turin tawngtaina nen nasa taka kan beih a ngai a ni. Pathian hla sa tute chu fel bik deuh, kawm nuam, inngaitlawm leh piangthar tak tak tura beisei kan ni bik in ka hria a. Chu chu miten kan chunga rinna an nghah dan pawh niin ka hria. Chuvang chuan kan mawhphurhnate hria a, tawngtaina nen nun uluk taka kan hman a tul tak zet zet ka ti.
—Sailova nen 'kan ni lo'
Kristian chhungkaw tha tak din tur chuan inngaihzawn lai atanga bul tan that a ngai ka ti. Tunlaiah sex hman hi ngaihzamna a lian tawh em em a, hei hi pawi ka ti takzet. Hmeichhe tan bik phei chuan virginity hi kan neihhlut ber a ni tawp a. He kan neihhlut ber hi hlauh a hlauhawm em em a ni. Virgin pawimawh zia hi thih leh dam inkar ang vel hi niin ka hria.
Kei, ka pasal duh zawng chu; sang lam pang, ngo lam deuh, cool raih mai, tawng tam vak lo, a sawi tawh tihhlawhtlin ngei tum leh tlat si, a thusawi rinngam tur leh Pathian tih mi tak. E! taka, U Sailova nen hian miin min dem ve ziah a, kan ni miah lo asin.
—Thalaite kan nun a loose
Mizo thalaite nun hi a loose riau in ka hria. Pathian pawh hi kan pawisa ta lo lutukin ka hre bawk a. Thil engpawh mai hi kan ngaizam em em thei zel tawh mai niin ka hria a, pawi ka ti khawp mai.
Kan nun siamthat nan chuan chhungkaw inenkawlna tha a pawimawh ber in ka hria. Nu leh pa tinte hian kan fate hi eng ang mi nge an nih hriatchian hle tum ila, chu an mizia ang chuan enkawl in, ven ngai venpui ila, chutiang kawng chu kan insiamthat theih dan kawng awlsam ber niin ka hria.
—Zu khap hi a tul lo
Zu hi kan khap hneh chuang lova, khap hneh pawh kan inring tak tak chuang lo a nih chuan khap loh mai tha ka ti deuh. Amaherawhchu, zu hi zalen se chu ka ti hauh lo. Thlah zalen hi thalaite hian kan zo pawhin ka ring lo. Chutih lai chuan khap avanga in loh ai chuan a awm pawha in lo ngam Kristian kan nih dan tur inzirtir hi a pawimawh tawh zawk em? ka ti. Hei hi kan hlawkpui zawk pawh ka ring deuh tawh. Tin, sawrkar hi dan leh thupek kenkawhah hian fair tak, tuichhun ang pat nise chuan zu khap hi a tul lovang. Mahse, chutiang chu kan la nei silo. Chutiang bawkin sex video hmuh tur awm leh thin pawh hi a pawi a, a zahtlak bawk. Mahni thil tihsual lai thlalak kher hi a tullo khawp mai. Pathian zah loh lehzualna a ni in ka hria.
An In nuam takah inkawmna hun tha tak, fianrial takin kan nei thei a, hunthawl tak neih a chakawm kher mai. Hun chep tak karah min hrethiam takin kan zawhna tha takin min chhansak tu Bethsy-i hian Music Video sawm chuang lai a siam tawh a. Favang vel bawrah hian Music video collection siam a rilruk mek bawk. International level a zai a rawngbawl chu a tum lian tak leh chak em em a ni. A zai lo hlutsak tute zawng zawng chungah lawmthu a sawi a. A kalzelna turah tawngtaina nen dil puia, lo tawiawm zel turin mizo mipui zawng zawngte a ngen a ni.
(He thu hi October 2009 Issue- a tihchhuah a ni)
"Ka hla sak zingah chuan ka nu'n Halkha hla a lehin, 'Engkim i ropui nan' tih hla hi ka duh zual bik a, ka testemony hla a ni a, he hla hmang hian ka inhlan thar fo thin. —Bethsy Lalrinsangi!!!!"